BRIEF- SCOTLAND, CT. USA HISTORY


Town Crier


The first settler to inhabit the southeast corner of Windham Connecticut, now Scotland, was Issac Magoon. He purchased 1,950 acres in the year 1700, which was the birth of the town's history. Issac Magoon is associated with the Clan MacEwen. The MacEwens were a sept of Clan MacLachlan. Their ancestral territorial lands, in Scotland, UK, were in the area to the east of Loch Fyne and their claim to the control of the clan's holdings stems back to the middle ages.


As he viewed the rolling hills, he was reminded of his ancestral country in all its beauty and named the area Scotland. In 1731 Scotland residents appealed to the General Assembly to obtain Society privileges. A committee was appointed to investigate their circumstances, and favored a position of parish privileges. The boundaries of the new parish should be less than one third of Windham's territory. Some of Scotland's inhabitants opposed division, but in 1732 , Scotland was made a parish. Eighty families were included in the new parish.

The town remained a parish of Windham until 1857, until it was incorporated. Till this day, Scotland's 18.8 square miles retains its rural quality inspite of ever increasing development.


Scotland CT, USA has several notable historical buildings:

The Edward Waldo Homestead(1715)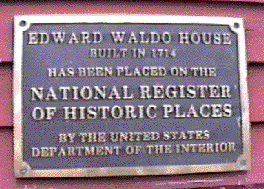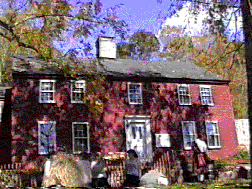 The Huntington Homestead (picture pending)

(1730) Home of Samual Huntington-signer of the Declaration of Independence, President of the Continental Congress during our country's birth and Governor of the State of Connecticut.

In July of 1731 a son was born to Nathaniel & Mehetabel Huntington of Windham, Ct. He was named Samuel and grew up on the family farm. He was educated by family members. Samuel developed an interest in the 'law' and was aided by two prominent Windham attorneys, Eliphalet Dyer and Jedediah Elderkin of the 'Battle of the Frogs' fame. With their aid and vast libraries he was able to be admitted to the bar in 1754. The same year, he opened a law office in Windham and eventually moved his practice to Norwich, CT.

In 1773 he entered into politics. In 1774 he was made assistant Judge in he Superior court. In 1775 he was chosen into council and in the same year named a delegate to the Continental Congress meeting in Philadelphia, PA. His experience in the CT General Assembly and knowledge of parliamentary procedure involved him in the more pressing matters of the Continental Congress. He served with Thomas Jefferson on the committee of Indian Affairs, supplies and ammunition and manufacture of arms.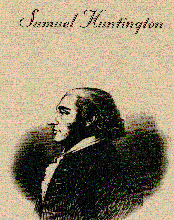 July 3, 1731-January 5, 1796

September 28, 1779 he became President of the Continental Congress.
1779-1781
1783, he was again a member of Congress.
1784 he was chosen lieutenant-governor and appointed chief Justice of the State of Connecticut.
1786-1796 Samuel Huntington was Governor of Connecticut and was
re-elected until his death in 1796.


The Ebenezer Devotion House (1734) (picture pending)
In 1731 Scotland residents appealed to the General Assembly to obtain Society privileges. A committee was appointed to investigate their circumstances, and favored a position of parish privileges. The boundaries of the new parish should be less than one third of Windham's territory. Some of Scotland's inhabitants opposed division, but in 1732 , Scotland was made a parish. Eighty families were included in the new parish.

Rev. Ebenezer Devotion of Suffield, a graduate of Yale, was ordained by a council from six surrounding chruches, to be the first pastor of the Scotland Parish Congretional Church.


On June 20, 1781, six thousand French soldiers, commanded by Count Rochambeau Started their trek to join Washington's Continental Army.
Magnificent in appearance, superb in discipline, with banners flying and martial music playing marched from Newport, R.I. to Philadelphia. They marched along the present Route 14 into Scotland continuing their journey through Windham.
Scotland, was at that time, a Parish of Windham. Count Rochambeau's encampment sites are clearly marked along the route.

The Windham and Brooklyn Turnpike

A bit of history in regard to one of Scotland's roads.

The road extended from the courthouse in Brooklyn to an intersection with the Windham Turnpike about one mile east of Windham Green. It was built by the Windham and Brooklyn Turnpike Co. under a charter granted at the May session of 1826, and was probably completed during the following summer. It served as the direct route from Brooklyn through Howard Valley and the northerly part of Scotland to Windham Green. A toll gate stood at one time in Scotland and in 1909 the cellar hole was still visible. The corporation owed an acre and a quarter of land in Scotland.

The corporation endeavored to make money for nineteen years by moving its gates and altering its location. Evidently the corporation was successful for in 1845 it was willing to take over the road from Brooklyn to the bridge over the Quinebaug in Danielson. The corporation bore the expense of half the construction cost of the `new' bridge which was needed to replace the flood damaged old one, thus the Town agreed that the corporation could erect a toll gate with half tolls.


The Turnpikes of New England by Frederic J. Wood. copyright 1909.


G Kinghorn

I recently discovered in a pile of forgotten books, a 1945/46 copy of the Connecticut State Register. As I was `thumbing' through the pages, I came across a chart illustrating the States population by town from 1756-1940. Scotland's first recorded population figures were in 1860, eventhough the Town was incorporated in May, 1857.

Year Pop.

1860 720
1870 643
1880 590
1890 506
1900 471
1910 476
1920 391
1930 402
1940 478

Note: 2000 population 1392

This Page is in the process of being updated with more historical facts, pictorial scenes and stories about Scotland, CT. & surrounding area.


Back to Top




Home
Health & Fitness?? next pg. on site
Previous Page

Webpromotion - 3D Web Animation result: Webpromotion - 3D Web Animation

Map of CT