projects/photo's II
The existing deck was in dismal shape and needed to be refurbished. The plan is to erect an arbor to help shade the deck area which is on the south side of the house, complete with railing and new stain. We are currently in the vine selection process.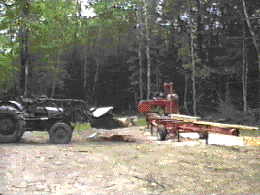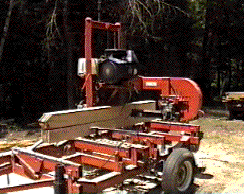 Herm's help is essential at the mill site. Here he holds a cant that will be sawn into boards.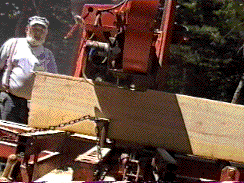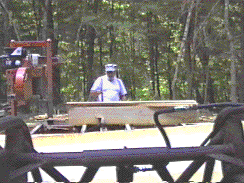 Quarter sawing the eight foot log into 2x8's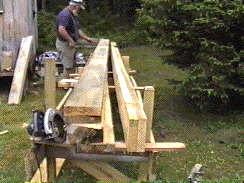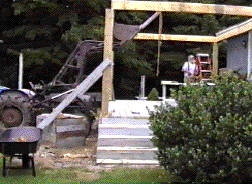 Glenn built staging to make the assembly of the 4 X8 X16 laminate beams easier. He works alone for the most part, except 'Hermie', (his tractor), is always there to assist in placement of the beams.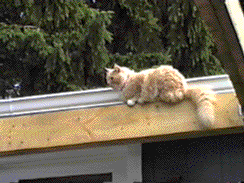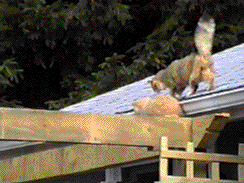 Our resident building inspector, 'Boomer', has apparently given his approval but not without consulting with his mother, 'Missey'.
We are waiting for the top rafters to be milled at a local sawmill. We did not have enough white pine to finish the milling ourselves. Glenn did manage to construct two lattice sections, one for each side out of white pine for our vines to grow on. They are very sturdy and hopefully will last many years.
Below rafters in place: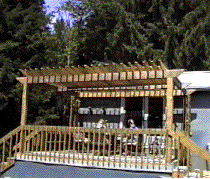 Below Glenn's Folks, a.k.a. Mabel & Harry, are helping us 'break in' our arbor shaded deck area, with a New England Blue Crab lunch.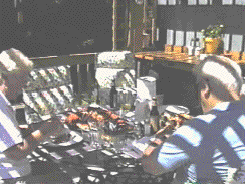 Comfortable deck furniture was added and now all that is left is to plant a vine to ramble up and over the arbor and of course, wait until next year to stain, allowing the wood to season. This year, we added additional lattice to the rafters until a vine grows . We have found that it is 15 degrees cooler on the deck at mid-day. It's great to be able to use the deck and be comfortable. The furniture costs more than the arbor construction, which we estimate to under $300.00.
We like the 'rustic country look' so this type of arbor fit well into our surroundings.

If you have any questions or comments Contact Us You can use the Guest Book Feature if you like. We would love to hear from you.

Back to Top

Neat Links NEXT PAGE

Home HOME PAGE